Coverage Ink's Get

Repped

Now! Returns!
Last year we got writer Brandon Barker into

Benderspink

and UTA, and his script "Nottingham and Hood" sold to Disney for six figures.

Are you next?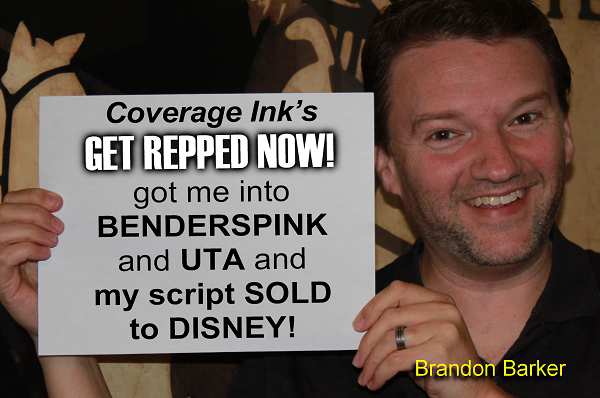 ALL SCRIPTS THAT RECEIVE A "CONSIDER," SUBMITTED BETWEEN 4/6/15 and 5/3/15, WILL BE READ BY OUR PANEL OF TOP LIT MANAGERS - GUARANTEED.
For a limited time only, four top literary representatives:

will
personally read any scripts submitted to Coverage Ink for script coverage that garner a "consider" for script
(roughly the top 5% of submissions on average.) Wagner,

Engleson

and

Belkin

will read the feature scripts; Wagner,

Engleson

and Mills will read the TV pilots.

That's all there is to it. The door is open.

If you've got the goods, you've got a real shot of getting a kick-ass manager.

Bring it!


2) Fill out the online release and order form and then upload your screenplay or teleplay.



3) You will receive a confirmation from us and a

Paypal

invoice from CI for the screenplay analysis.
4) You will receive your analysis back within ten calendar days. NOTE: If we are at capacity, we may have to push your coverage delivery back. Due to the huge response last time we were running about 12 days behind at the end of the Get

Repped

Now!

promotion

. We'll let you know when you submit if we anticipate a delay.
Considers will be sent to

Belkin

,

Engleson

, Mills and Wagner with our recommendations and the coverage. Script submissions that score below consider ('Consider with Reservations' and 'Pass') will not be forwarded, but you will have a solid road map for how to make your script rock in the form of a detailed and empowering script coverage report. Considers will also have the opportunity to polish your script based on the coverage before we submit.
STANDARD COVERAGE COST:
$129 for features, $99 for 1-hrs and $79 for 1/2 hrs.
This includes a very detailed 10-14 page coverage report analyzing every aspect of the screenplay. Please see our website for complete rules and FAQs:
http://coverageink.com/getrepped.html

Founded in 2002, top-rated Coverage Ink is a leading independent screenplay analysis/development service used by emerging writers, established scribes and management and production companies. Coverage Ink is currently in production on its first animated feature
"Malevolent,"
starring

Morena

Baccarin

, Ray Wise and Bill Moseley. Visit us at www.coverageink.com.